Finding the right supervisor(s)
It is important to find supervisors who have the time, the right knowledge and the commitment to work with you productively.
Abilities and expertise can be shared out among a supervisory team. You need a director of studies/first supervisor, possibly also a second supervisor and perhaps an external one.
Initial contacts and contracts are important. Establish workable learning contracts so you decide and agree on regularity and shape of supervisions, and your commitments to an agenda, work production and so on.
Ensure you discuss title and scope of project at your first session.
The nature of the supervisory relationship is important. Set up regular sessions, make relationships clear, ask for help with planning the scope of the project, reading, contacts and so on.
What you can expect from your supervisor(s) needs clarifying. You can expect support, clarity, direction, support over sharing information, management of ideas and concepts, ideas about presentations and publications, guidance over the examination process.
Stages of the supervisory process need clarifying. The supervisor(s) are involved at the title, planning, literature search, methodology, draft data collection and pilots, drafting, presentations and publications, writing up and editing, viva and after stages.
Do establish and maintain good working relationships to ensure full support through all of these stages. Handle any difficulties in relationships with sensitivity and assertiveness.
Supervisions at a distance are a possibility. Set up email contacts, video links, regular contacts and visits. Students studying at a distance and/or part-time possibly from an International context need to establish good contact systems, for example, email.
Set up support network at home/amongst peers.
At the start
Once you have identified or been allocated a supervisor, you need to contact them in person, by phone or email, or be contacted by them to discuss the work informally then more formally. You will need to negotiate with your supervisor the ways you will work together - how often you should be in touch by distance or meeting, what is expected from each of you at what stages, when they want to see what kind of work from you, and what help and advice you need from them. It is also important to put some time into working out how your supervisor works, what kind of a person they are, and how you might both best work together over time. It is important that the supervisor works with the student to look closely at the first stages of development of the research project proposal. It is also important that both student and supervisor agree that this is a promising, manageable project that should achieve a good quality thesis. Once you have thought through and settled on your responses to the lists of research skills needs, and the draft proposal contents, you will want to share and debate them with your supervisor(s).
Tips for working with your supervisor
Your relationship with your supervisor is crucial, and may be of value to you for some time after the completion of your course. See the development of this relationship as a process of continuous negotiation based upon effective communication. Your supervisor can only support you adequately if you make your needs clear, so prepare well for each supervision, make sure that you confirm the details from each supervision in writing (via email) after the event and use your personalised timetable to show your supervisor the type and level of support that you expect to need at each stage of your course.
Use whichever form of communication your supervisor prefers (email, phone, face-to-face).
Send notes of what you would like to discuss to your supervisor before each supervision.
Don't be afraid to make notes as you talk through your progress and plans – it is easy to forget what was said after the event.
Your department administrators will know many of the practical details associated with your course, so make the most of them.
Ask your supervisor to put your name forward for any conference or research group emailing lists that are available.
This content has been taken from How to Manage your Postgraduate Course, by Lucinda Becker.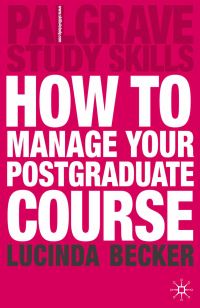 This book is designed to help readers to make the transition from a first degree or from the workplace to a postgraduate course. It focuses on the...
For further information see Chapter 5 of The Postgraduate Research Handbook and The Good Supervisor, both written by Gina Wisker.