Organisational skills
Organise your space
Make sure the space is big enough to work. You will need:
a writing surface where you can spread out your papers, books and files
space for a computer
bookshelves for books
light so you can read without straining your eyes
to make sure that your computer is at a right angle to the window so light does not reflect on the screen.
You will likely be using a laptop a lot for your studies. This means that you also need to consider Health and Safety factors such as ensuring that you have appropriate furniture and lighting.
Organise your paper files
work on A4 hole punched paper rather than shorthand notepads and small books - you will find this makes it easier to file your notes
use a different coloured A4 ring file for each subject or module
label every piece of paper - file it
keep the content file at the front of the file up to date - this will save you a great amount of time searching for materials
use a light file or plastic envelope to carry round the papers and notes needed in the day and file this every night so that it does not pile up.
Organise your electronic files
Keep back up copies of everything on your computer's hard drive, an external hard drive, cloud storage or USB
Have a separate storage area for each specialism or module
Keep files small so that you do not risk losing materials
Check storage space regularly as it takes up time to re-organise material once you run out of space
Save and back up your work regularly
For more advice, see time management and Chapter 6 of The Study Skills Handbook by Stella Cottrell.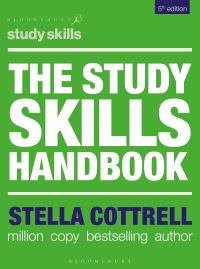 ---
Time management
Working on your own
You will spend most of your time working on your own at university. This offers wonderful opportunities for using the bulk of your time in ways that suit your personal preferences. Some people prefer to study early in the morning or in the middle of the night.
The main risks are:
feeling there is more time available than there is

not developing sufficient structure to your time to ensure you get everything done

missing deadlines

drifting - not being sure where you are in time if you have few regular appointments to mark out the time
You will be responsible for organising your time and ensuring you meet necessary deadlines. Tutors do not accept excuses for missed deadlines. If you miss a deadline, you may have to retake part of your programme or be unable to complete at all. This means time management skills are essential.
5 tips for managing your time
Keep one diary - write everything in it - take it everywhere

Keep a time planner so you can see easily what you need to do

Write all deadlines in your diary on the right date

Also, write the assessment deadline in your diary, on the date you must begin working towards the deadline

Allow time for travel and delays between appointment

​
Activity
Buy a diary that you can carry around

Many people find a 'Week to View' most useful

Write in all your appointments for each week

Write in all the deadlines you must meet this term or semester

Write in all your other activities

Make sure you leave time to travel and rest

Aim to have a complete record of your activities
The Macmillan Student Planner has been designed for students at all levels in higher education, using feedback from students about what they wanted. Features include:
Study tips, time management and quick study checks
Sections to organise essential bits of information
Week-to-view term timetable or semester planner
Year-to-view planner
Week-to-view diary
Habit trackers
Personal finance guide
Spelling rules
Useful contacts and websites
Reflection
What additional tips could you recommend to other people about how to save time or manage it more effectively?

What are your current strengths in time management?

What aspects of time management might you need to improve?
For further information please see Chapter 4 of The Study Skills Handbook by Stella Cottrell.