Making choices
Choices to help your academic work
When making academic choices, you need to consider such issues as whether:
You have a good foundation in the skills and knowledge of the subject. If not, you may struggle with the programme.
Your programme fits together as a coherent set of choices.
There are areas of overlap which you may find either useful to reinforce your understanding if the subject is complete or boring if it feels repetitious and too easy.
The programme suits your career interests.
You can gain credit for previous learning and experience - if you have undertaken previous higher level study or been in relevant work for several years, you should ask about this at the university.
If you are unsure, speak to the admissions tutor, a year tutor or your personal tutor, depending on what your university provides.
Choices to help your career
You have important choices to make about how you allocate your non-study time. This is an individual matter, depending on your life interests, commitments and career ambitions. From a career perspective, see planning your future.
Choices to improve your quality of life
It is important to gain a good balance between:
Achieving study objectives.
Working.
Developing skills and a broad portfolio of experience so as to be a strong candidate for jobs.
Making friends.
Networking- meeting people who can offer guidance, leads, support.
Developing new interests and wider perspectives.
Relaxing and resting.
University offers unique opportunities to try out new things and to assume responsibilities. Make the most of these opportunities.
Reflection
Consider what would really improve your life.
Think about what you might like to try, or get involved in.
Which two areas take most of your time at present?
To which two do you need to pay more attention?
For more advice please see Chapters 4 and 8 of The Study Skills Handbook and Skills for Success, both by Stella Cottrell.
Whatever stage your students are at, it's never too soon for them to be thinking about their future. Competition for jobs is fierce, and having a...
---
Independent study
Self-management
In general, university is different to school and college. One big difference is that there will be far fewer taught sessions. You will spend most of your time working on your own, without a lecturer or tutor in the room to guide you. You will be expected to organise and manage your own study space and time. You will have a great deal more responsibility for your own success than is typical of school or college. This can feel as if your study lacks structure. However, it can also be very liberating. It is up to you to create the structures that suit you best and to fit these around the times when you are expected to be in taught sessions.
For more advice, see time management and organisational skills.
Taking control
You will be responsible for making choices that affect your programme and future career choices. Advice and guidance will be available, but it is usually up to you to find out where and when this is delivered, and to make appointments for such guidance. It is up to you to check that your choices are sensible and meet the requirements for professional areas that interest you. This can feel rather daunting. However, it can also feel a relief or exciting to know that you are more in charge of your own life. The literature you are sent usually tells you clearly how to go about making choices and finding help.
Personal planning
University offers more opportunities for developing responsibilities and gaining experience and knowledge in a wider range of area than almost any other setting. It is in your interest to make the most of these opportunities - so you have no regrets later. When you apply for jobs, your employers will know that you have these opportunities and will be interested to see how well you make use of opportunities. Most students aim to improve their career prospects by attending university. Your programme will focus mostly on academic aspects of your development. In order to really improve your career opportunities, you will benefit from taking control of your time and organising a personal development plan. Find out the skills and experience that employers really want - and create extra-curricular opportunities to gain these. In particular, create opportunities to develop your 'people skills', your problem-solving skills, your creative thinking skills and personal management. These skills are usually in short supply for graduate jobs.
For more advice, see personal development planning.
Knowing the essentials
You will be sent a great deal of information by the university, which usually includes a Student Handbook or similar. It is essential that you read these. Keep the material where you can find it easily. Browse through it from time to time to remind yourself where information can be located. This is essential. Often, there is essential information about deadlines, assessment, regulations that you must know. If you miss this, you may find that you have to retake some of your programme - and pay for it.
Finding resources and support
You will be recommended books, equipment and sources of support. These are likely to be found in a Handbook or similar literature. However, this will be only part of what you need to know. At university, you are expected to take responsibility for building on the basics. This means finding out for yourself what additional reading is needed, what resources are available in libraries and resource centres, what resources are available in other university support departments, and when to use these. Your tutors may suggest additional reading or that you visit the library or use the internet or see support staff. Usually, they expect you to work out for yourself that you need to do this. You are expected to identify most of your own needs and to take steps on your own to find the support you need.
For more advice, see getting support.
Structuring your study
At school or college you may have received a great deal of guidance on what pages to read in books, how to interpret assignment titles, how to interpret what you read, what information to include and what to leave out, how to structure your answers. Teachers often talked through this in detail - though yours may not have done. At university, you are expected to do much more of this on your own. The final product is much more the result of independent study than it was at school.
For more advice, see effective study strategies, reading strategies , research strategies, critical and analytical thinking skills and writing skills.
Keeping going
When you work on your own, it is important for you to stay focused and to maintain your own motivation. It is quite natural for motivation to change over time. This is not something to worry about - but it does require action. Most people find that it is useful to have the support of other people for this.
For more advice, see motivation and working with others.
Reflection
In what other ways is your study more 'independent' than it has been in the past?
Which one aspect of independent study do you find most challenging at present?
What do you need to do to address that challenge?
This content has been written by Stella Cottrell, author of The Study Skills Handbook.
---
Motivation
Motivation can increase and decrease over time. When you are strongly motivated, it is easier to stay focused, to keep to the task, to work long hours. However, it is natural to lose some of your motivation when a project lasts as long as a degree. This is not something to worry about but it does need to be addressed. It is important to review your goals and reasons for study at regular intervals, reminding yourself of what you have to gain.
Motivational spurs
You can boost your motivation by:
Being clear why you started the degree

Reminding yourself of the benefits of gaining the qualification

Writing the benefits down and put these where you can see them

Setting yourself manageable short-term goals

Finding a source of inspiration: who or what could inspire you to complete your goals?
Celebrate success
When you achieve a target or goal, give yourself a reward
Set rewards that are likely to motivate you
This will vary depending on what you deprive yourself of whilst studying
Congratulate yourself for meeting targets.
Activity
Write a list of all the things you hope to achieve by gaining a degree

What one thing is likely to motivate you the most to keep going with your degree?

Identify one target you want to achieve in the next six weeks

Identify one target you want to achieve in the next week
For further information please see Chapter 4 of The Study Skills Handbook by Stella Cottrell.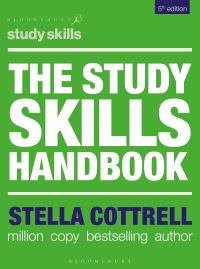 This is the ultimate guide to study skills, written by million copy bestselling author Stella Cottrell. Her tried and tested approach, based on...