Staying connected in a virtual world
'Social distancing' and 'self-isolation' it's a whole new vocabulary. How do we do this and still have some much-needed fun in our lives? We now need to adapt our use of social media, and use it to enhance our lives. We need ways to use social distancing as imaginatively as possible to keep us and our loved ones safe. We saw this working in Italy when neighbourhoods started singing together from their windows. Facebook showed a video of people street dancing (more than 2m apart) to 'I'm in the mood for dancing'
Virtual catch-ups with friends and relatives
There are lots of platforms you can use for one-to-one or group video meet-ups, for example Duo, Google Hangouts, FaceTime, Microsoft Teams, Skype, WhatsApp and Zoom. Make these interactive and fun: anything from a virtual coffee break or meal to a quiz. How about challenging your friends to make a meal out of a few ingredients Ready, Steady, Cook style? You could all do this and compare the results. Try to build these social times into your day at regular times to keep some routine in the day and have something to look forward to. "I'll do some reading then virtual coffee at 11:30".
Study buddies
You could also use virtual meet-ups for study buddy time, revising together or jointly reading an article and discussing it. Not all students like video meet-ups, but you do not have to have the webcam on!
Keeping active
Keeping active is important for physical and mental health. It can also help to build routine which is so important right now to break down our days with some purpose and structure.
Virtual exercising is booming as we try to stay indoors and fit. Maybe your normal class has moved online, or your local gym is doing virtual classes. Joe Wicks, Oti and Marius and Yoga with Adriene are popular choices. Look at BBC Sport or on YouTube, share links with your friends and do a virtual workout together.

Going out – we can go out to exercise once a day as long as we 'social distance'. Avoid crowded places and pinch points (gates, carparks), but do get out once a day when you can. Anything out in the fresh air will improve your mood: walking, jogging, running, cycling, or dancing. Stick to 2m apart and smile at others. We are all in it together: a smile costs nothing and may brighten your and their day.
Staying connected and looking forward to the future
If you've had to move back in with your parents you will need to maintain your humour and social connections – from uni, school and work – as best you can. You could try to make new ones too. One day you will be out there again and the more social contacts you have the better, not only for your physical and mental health, but also your future prospects. Why not look for a virtual meet-up group on Facebook or Meetup to connect with others and share interests? Lots of organisations are going online: for instance Rock Choir is singing at 3pm every day. After uni finishes for the summer, look for volunteering opportunities in your area, or even just looking out for neighbours or elderly relatives. If you have had the virus you will have developed some immunity so you are going to be in demand! Supermarkets and healthcare are recruiting: look at local sites such as nextdoor.com and LinkedIn. Any voluntary work you do will look great on a CV and the activity will improve your wellbeing.
Using your critical skills
Whilst we are reliant on maintaining our social connections with friends and family at this time through social media, it can increase our anxiety to be constantly reading about Covid-19. Try to touch base with what is going on once a day, from a reliable source. Your uni studies have emphasised the importance of using reliable evidence to develop your critical thinking: this is no different. Try not to look at unreliable sources that promote 'fake news'. BBC News is reliable; Facebook or Twitter is not!
This article was written by Janet Godwin, author of
Planning Your Essay
and
Studying with Dyslexia
.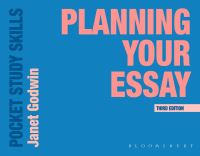 With essays, the key to success is in the planning. The third edition of this bestselling guide takes students through the complete essay writing...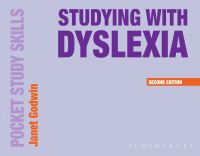 Full of practical advice and visual examples, this compact book provides learners with the tools and knowledge to work with their dyslexia. The...