6 Steps To Effective Online Groupwork
1. Don't panic
Up to now, your group project may have been wholly or partly face-to-face. You may not have needed to do much online and may be worried that you do not have the time or expertise to work effectively without face-to-face contact. The good news is that software and communications technologies can provide valuable personal contact to keep your group going successfully and overcome that feeling of isolation. And the software is easy to learn and use. We suggest alternatives in Step 4 below.

2. Keep in contact
Keep in touch with your course and institution, Check your email and VLE or LMS (Virtual Learning Environment / Learning Management System) regularly (Moodle, Blackboard, Canvas etc.), for extra resources and updates from staff. Your tutors may suggest and/or set up additional communication channels; your group might wish to use messaging or social media.
You do need to think about online security and privacy – if you are in any doubt about a particular app or technique, check with your tutor or your University's IT advisors.
Stay in regular contact with your team/group and schedule regular online meetings if you can.

3. Make a plan which suits everyone in the group.
Find out what technologies and online access your group members already have.
It is very easy for tutors to assume that everyone has access to great wi-fi with no serious distractions. Is this true for you?
Create a 'map' of your group's circumstances to decide what software will help. For example, videoconferencing works very well for meetings but only if everyone has fast and stable connections. It may be better to choose an app you can access on your phone. Some members of your group may have family or work commitments which make it difficult to be online at the same time – if so, use techniques like email, chat apps like WhatsApp, Messenger, Twitter group DMs, Discord.

4. Use software to collaborate online.
You have two decisions to make:
What do you need to do in order to complete the group task/project?
(i.e. What does collaboration mean for your group?)
What software will best support this collaboration?
To decide what you need to do, you can use the 5Cs model (Nerantzi 2015; Nerantzi and Beckingham 2015; Nerantzi 2016) which we explain in the table below:
| The 5 Cs | What your group needs to do |
| --- | --- |
| Connect | Keep in touch (with other group members, tutors, any clients etc.) |
| Communicate | Schedule meetings; plan; discuss and resolve issues; receive and act on feedback |
| Curate | Gather, organise and share resources |
| Collaborate | Generate ideas; plan; project management; store and edit. |
| Create | Prepare drafts and whatever is required for assessment |
If this covers everything you need to do – you might want to add a few things to suit your context – then you can decide which combination of software will suit you best.
Before you make your decision, check what software is readily available in your institution. Some universities use Microsoft (MS) products; others have opted for Google; and some have a mixed approach. Use whatever combination suits your group.
The following table suggests different software you may be able to use:
The 5 Cs
Using M S
Using Google
Using a mix of software
Things to consider
Connect
Outlook
Teams
Gmail
Email
Text
WhatsApp
Which communication channels will suit everyone in the group?
Communicate
In Teams, you can set up and run meetings using video/voice conference calling.

Team conversations can use the chat function.

You can also share and collaborate on documents, connecting with other MS Office apps.
Organise meetings e.g Google Calendar

Online meetings e.g. Google Hangouts

You can use the comments function e.g. Google Docs, Sheets and Slides
Organise meetings e.g. Doodle

Online meetings e.g. Zoom, VLE web conferencing

VLE Discussion Boards
What online space is most accessible and reliable for your group in your context?
Curate
Shared list of references or planning online, e.g. Office 365
Shared list of references or planning online, e.g. Google Docs
Google Scholar

University Library search and databases
Which tools that are best suited to your subject area?
Collaborate
Shared working spaces e.g. Office 365

Also may need tools to help re ideas, e.g. concept mapping
Shared working spaces e.g. Google Drive

Also may need tools to help re ideas, e.g. concept mapping
Collaborative tools e.g. Trello, Slack

Concept and/or mind mapping e.g. Cmap
How easily can you access these via mobile devices?

What will you need to keep long-term after the project?
Create
Shared working spaces e.g. Office 365

Personal reflective docs

Poster software e.g MS Publisher.
Shared working spaces e.g. Google Drive

Personal reflective docs

Presentation software e.g. Google Slides

E-portfolios e.g Google Sites.
Poster software e.g. Canva, Piktochart, ThingLink

E-portfolios and reflective spaces e.g. PebblePad, Mahara
What will you have to produce for the assessment?

How will you evidence peer contribution?

Where will you gather reflections during and post project?

5. Make smart use of the technology
You do not have to use the most advanced technology to succeed. If you do have access to videoconferencing then use it sensibly. Simple techniques can make a big difference. For example:
Plan meetings to last no more than one hour.
Have someone in the group act as chair and keep the meeting on track.
Use the 'mute' button to silence your mic when you are not speaking to reduce sound interference.
Agree a visual cue (like a simple hands up) for when someone wants to speak
Record the meetings to make sure you have a record of what was agreed.

6. And finally – remember not to panic
Your University/College is making all sorts of new arrangements to help. Tutors and support staff are now working remotely, doing everything possible to support you. If you have particular issues, make sure that your tutors know - they may be able to help now or offer extra support to help you catch up when things get back to normal.
On a final positive note, once you have done everything you can to stay safe and healthy, you can use this difficult time to develop some new skills which will help you in the long-term. We predict that many organisations, as well as universities, will increase their use of online communication in future.

Further sources
Software support
There is plenty of support online if you are new to the software we have mentioned in the table above. For example, if you are new to Microsoft Teams, there are materials on many University websites e.g. University of Liverpool as well as all the resources on the Microsoft website.
Using social media
A group of Sue's students have produced a very useful short guide on different ways you can use social media for remote learning.

References
Nerantzi, C. (2016) Chapter 7: Designing-in social learning: A potpourri from open professional development practices and how Aristotle, Socrates and Plato can help, in: Kilgore, W. ed. (2016) Humanizing online instruction, Pressbook, available here

Nerantzi, C. (2015) Who says academics don't do CPD? Connecting practitioners and developing together through distributed cross-institutional collaborative CPD in the open, in: Rennie, F. (ed.) The distributed university, JPAAP Special Issue, Volume 3, Issue 1, pp.98-108, available here

Nerantzi, C. and Beckingham, S. (2015) BYOD4L: Learning to use own smart devices for learning and teaching through the 5C framework, in Middleton, A. (ed.) (2015): Smart learning: teaching and learning with smartphones and tablets in post-compulsory education, pp. 108-126, Sheffield: MELSIG publication, available here
This article is by Peter Hartley and Mark Dawson, authors of Success in Groupwork and Sue Beckingham.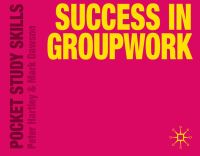 Using examples of real students' successful group projects, this succinct and supportive guide will help students tackle group assignments with...