The ultimate packing list
Setting yourself up for university can be expensive, so to save on spending ask your family if they have spare towels, pots and pans and other things like that for you to take with you. Also, there isn't a certain 'brand' that you have to use at university, and it's a lot less scary when you have stuff in your new room that you're familiar with.
You can probably nab most of your packing list from your own home, but check out pound shops for any extras. Bigger shops like IKEA are great for cheap furnishings and accessories, but it's best to keep the budget low when you start out. You'll need extra money in the first few months for having fun and socialising. When you get your student loan or wages you can upgrade the things you need if you want. Of course, if you do have spare money for furnishing your new space then go for it – just remember that student rooms get a lot more wear and tear than your average bedroom at home, so buy things that you don't mind getting knocked or used a lot.
But, before you end up with a car piled high with a mountain of pans, duvets, clothes and the odd teddy hanging on for dear life, have a look at the ultimate packing list.
---
Getting your student finances sorted out
Student loan
Getting a student loan is pretty much part of every student's life. You can get a tuition fee loan easy enough. You can also get a maintenance loan, which is there to contribute to your living costs, rent, food and anything else you need through your time at university.
According to www.gov.uk, the amount you can borrow for a maintenance loan is relative to:
your household income
where you live
when you start your course
what year of study you're in
what help you get, if any, through a maintenance grant (see below)
Tuition fee loans are available to both full- and part-time students, while maintenance loans are only available to full-time students. The best thing to do is to check out the relevant pages on www.direct.gov.uk: click on Education and learning. All the information about loans, including the current amount for the year you apply, can be found there. www.direct.gov.uk is also the website where you'll be starting your student finance application form.
Student finance forms can seem daunting at first. Here are some tips to help:
Get all the forms you need from the www.gov.uk website. If you make a mistake you can reprint the individual page, not the whole form.
Make sure that you put the right address on the envelope, or if you are completing the form online make sure that you send it back way before the deadline.
Check that all your personal information is correct, otherwise your application could be delayed.
Write down or store the number for the student finance helpline – you'll need it.
If you are going to call up student finance, try to use a phone with a loudspeaker – sometimes you may have to wait in a queue for 10 minutes or more and if you put the phone on speaker you can do something else.
Print out a copy of your payment schedule and write it all down on your year planner. That way you know when to set up your direct debits for bills and other things you need to pay.
For more information visit the Student Loans Company (SLC) at www.slc.co.uk
Bursaries and scholarships
Most universities offer some sort of bursary, which is normally paid over the course of each academic year and you don't have to pay it back. Amounts do vary depending on your parents' income or your own, so your best bet is to give your university a ring or check its website for how much you may be entitled to. Most universities also offer extra money for students who come across hardship, so definitely do some digging around if you think you may be entitled to additional help.
If there is an opportunity to apply for a scholarship, go for it! You will usually have to have good A-level results to be a candidate for this, as many university scholarships are based on academic ability. The best way to go about seeing if you can get a scholarship is to look on your university website, as there will be links to the scholarships and awards that it currently offers.
Sponsorship
Surprisingly, there are many companies that will sponsor your studies. Some will even sponsor your whole degree if it is to do with the work you do for them. For example, a county council could potentially sponsor a youth worker to complete the degree if that youth worker is working exclusively for the council. It's amazing how much funding there actually is in the businesses around you. The best thing to do (after checking a company's website for any additional information) is to ask and see if it can help in any way. Each university has a different procedure for how the payments will be made and to whom, so have this information ready in case your potential sponsor wants to know more.
Some companies will pay for your studies if you're guaranteed to be working for them when you graduate. I know what it's like when you finish your degree, I was a very different person to when I first started out, and my career plans had changed quite a bit. So if you do allow a company to sponsor you and it makes this stipulation, make sure that you have taken this into consideration.
The army offers sponsorship with future employment as a condition. If you want more information on this, check out www.armyjobs.mod.uk
Disabled student support
If you have a disability, it's important to note that there is financial help that you may be entitled to. As a student you may have access to Disabled Student's Allowance from Student Finance England and Disability Living Allowance, which comes from the Disability and Carers Service.
To work out what you are entitled to and other support available, check out:
www.gov.uk/disabled-students-allowances-dsas/overview
This content has been written by Lauren Lucien, author of University Life: Making it Work for You.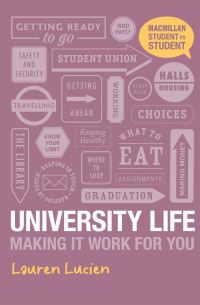 Hello and welcome to the start of your university life. I'm Lauren and I wrote this book as a student. Now that uni is more expensive than ever...