Choosing a postgraduate course
Postgraduate study is a challenging opportunity for personal and professional skills development, but it's important that you pick the research qualification route that is going to be best for you. Once you have decided on the right course for you, all the study skills you developed as an undergraduate will be equally essential to you as a postgraduate (see Stella Cottrell's The Study Skills Handbook). Select a university which suits your needs - whether it is local, has a specialist in your field, caters for part time students, can offer international students support with tertiary literacy (high level language skills in a second or third etc, language) or distance support. Find out about the university, read the handbooks they send you, contact individuals and talk through your ideas and the course. Then once you have chosen, hang on to the information so you are well informed about regulations.
How to manage your postgraduate course
Coming up with good, original ideas and using them effectively is the key to successful postgraduate work, but this is not always an easy task. The secret to success is to realise that these ideas might come to you at any moment: in a seminar, browsing in the library, even in the shower! To capture them, make sure that you note them down as soon as they come to you – a 'research notebook', which you carry with you, is a useful tool for this. Once you have recorded the thought, always make a note of the fact that the idea is original to you so that you can use it with confidence. Revisit your research notebook regularly as you progress. You can also try brainstorming with colleagues if you get stuck, or browsing index pages of texts to spark new ideas.
Planning
The focus on a lengthy piece of research, which we are concentrating on here, may seem daunting now, but it should be seen as something which is manageable, well planned and carefully carried out. You need to be realistic about its scope - it should be a manageable topic, filling a gap in knowledge, seen as a project to be planned, actioned, and finished off, not something which in itself will last for the rest of your life and change the world (its results might of course!).
Proposals, skills and independence
You need to be able to develop an acceptable proposal with a sound conceptual framework underpinning and guiding all you do, and be able to work independently. You will spend most of your time working on your own, independently, with the guidance of a supervisor, and hopefully a research methods development programme and other peers. You will need to:
ensure you develop the research skills you need
develop an appropriate research area and question(s)
select the right methodologies and methods to act as vehicles to help you ask your research question(s)
develop sound ways of analysing and interpreting the data and findings resulting from your research so that you can draw sound factual and conceptual conclusions when you write up and submit your dissertation or thesis.
Activity
How developed are your ideas about postgraduate research? Consider this list of first stages of research and jot down your own ideas so far:
define what areas, issues, problems, questions you want to research.
decide on a title that leads you to ask research questions but does not attempt research of too great a scope.
develop a hypothesis or research question.
set up a plan of activities and sort out where the resources and information might lie.
plan the time - and the critical path- identifying what stages of the research lead to what activities, and how the other activities in your life (work, home, social….) can be fitted in with the research.
Successful research - definitions
These should provide a guide for good practice and good experience throughout your study:
The research student should ensure that they are engaged on a promising topic that might fairly be expected to produce sound results and within the agreed time frame.
Students should work with their supervisors to develop standards of achievement that will result in a good quality thesis.
(University of Queensland Calendar)
​Ask yourself if your research is promising or rich enough and likely to produce sound results. You will need to use your own sense of what realistic and good quality research you have worked with in the past and to consult with your supervisor and colleagues to produce a viable project based on: the conceptual framework ie quality of the research questions, the methodology, the methods, your ability to organise ideas and findings.
You will need to show imagination and realism, and the ability to change and develop ideas in relation to what you are discovering.
For further advice on successful research-definitions, see chapter 2 of The Postgraduate Research Handbook by Gina Wisker.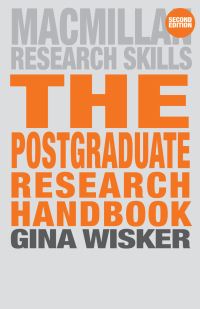 This lively and rigorous book provides guidance on planning and conducting postgraduate research. Divided into four parts, each of which looks at...
Time
Will the research you have started to identify and plan be completed within the time allowed? Is it too grand in scope? Is it unmanageable because of all your other commitments? Whatever its size and scope, you will need to develop good time management habits to:
stage your work
organise long, medium and short term work plans and 'to do' lists
fit it in with other demands
maintain a steady pace of research work
identify and hit deadlines
You need to:
develop a timetable for completion of stages of the work
carry out a critical path analysis - identify times when you need to gather data, seek support, develop skills and times when your other work and demands might prevent you from giving your research your full attention
set objectives
order your research activities
estimate the time each stage of the research should take
draw up a realistic schedule which will (of course) be changed with developments, setbacks and changes in circumstances
Activity
draw up a draft time plan for the different stages of your research NOW
what do you need to do first?
what are the first stages of the actual research once the proposal has been drawn up and accepted?
what are the longer term time demands and time plans - such as gathering data, continuing to read, analysing findings, writing up…
can you spot any times when other time demands could clash with you research?
For more advice, see time management.
Reading
It is important to start to read widely in the appropriate literature and to start to develop a literature research base and a sense of the major arguments by the major theorists whose work will underpin your own, and with whose work your own will be in a 'dialogue'.
Top tips if things go wrong
Never suffer in silence – there will always be somebody available to help you
Try to analyse the problem before it becomes unmanageable
Use your personalised timetable to prevent problems before they arise
Work with other postgraduates to avoid isolation
Remember that few problems are truly unique: your supervisor will be keen to help once you discuss the problem
Taken from How to Manage your Postgraduate Course, by Lucinda Becker.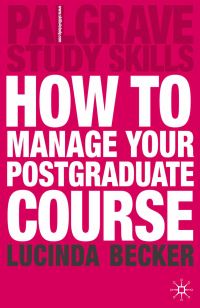 This book is designed to help readers to make the transition from a first degree or from the workplace to a postgraduate course. It focuses on the...