Six ways you might get financial support at university
A student loan: cheap and worth arranging in advance of your first term.
An overdraft: usually cheaper than your credit card, but to be arranged in advance.
Credit card: can be expensive but useful for short-term cash flow problems.
University hardship fund: often overlooked but can be worth exploring.
Parents: a typical source of help, but plan well and keep an account of your costs.
Working: sometimes essential, but ensure that you maximise your opportunities.
Do
Plan in advance so that you have a realistic budget and the finance to support it.
Make sure than you have a contingency plan in place.
Apply for your student loan as early as possible.
Keep track of your spending and get help as soon as you need it.
Be aware of money earning possibilities at university.
Don't
Panic if you overspend in your first two terms: things will usually settle down.
Lose track of your costs: you will need to know why things went wrong if they do.
Sign up for courses that involve extra expenses without planning the cost first.
Use your credit card without planning how you are going to meet the bill.
Feel alone: get help if you feel that your finances are going badly wrong.
Pros
You will have less stress if you are not constantly worrying about money.
You can pick up useful, marketable skills.
You might have more cash to spend on enjoying yourself at university.
You might feel more independent of your parents or other financial supporters.
You will leave university with a lower level of debt.
Cons
You will have to include your paid work in your personalised study timetable.
It is difficult to have to work when you are tired from studying.
You might find that your hours interfere with unexpected study commitments.
It might impinge on your social life, leaving you feeling isolated.
You might find yourself just spending more and not making progress financially.
Do
Find out about work opportunities near university well before you need to work.
Consider all possibilities, including call centre work and part time marketing work.
Be strict with yourself about how much time you can spend earning money.
Make a realistic estimate of how much cash you need before you commit to a job.
Consider working full time for part of a vacation rather than part time all term.
Don't
Ignore the money earning opportunities that might exist on your university campus.
Take the first job you see: search around for the best pay and hours that suit you.
Forget to amend your personalised study plan to incorporate your paid work.
Let your spending get out of control just because you are earning.
Assume that you will work throughout your course: keep checking your finances.
This content has been written by Lucinda Becker, author of How to Manage your Arts, Humanities and Social Science Degree.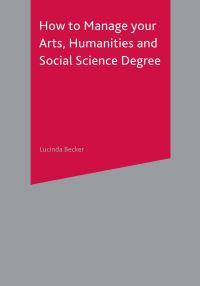 This innovative book takes a practical, no-nonsense approach to all areas of undergraduate life, from getting started and maximizing learning...
Saving money
Food shopping
It's easy to get carried away when buying food. The best way to manage your food budget is to make a list of what you need and stick to it. I know that seems simple, but it works.
Online food shopping can also save you money. Because the temptations are on a screen rather than physically in front of you, it's easier to say no.
Set aside the amount of money you want to spend on food shopping, then do your shopping online, staying within the amount of money you have allocated. Make sure that you include any delivery charges as well.Another smart way to save money on food is by signing up to reward cards. Most supermarkets, restaurants and even coffee shops have some kind of incentive or loyalty card where you get points for every pound you spend in store or online. Points and coupons all add to the pennies in your pocket through future savings, so pick one up to save money.
Storecards and discounts
A storecard is a little like a credit card. You put all your purchases on it then pay it off over time, or very quickly. But beware – although you often get a discount or some kind of promotion when you open a storecard account, it's easy to get smacked with very high-interest rates and then charges if you miss a payment.
The best approach is to wait until you need to buy a coat or some other large purchase, then put it on the card, get the discount and when your statement comes through, pay the whole amount off and cancel the card.
Loads of shops now give student discounts of up to 20 per cent on production of your Totum Student card, so ask at the till or check out the list of participating companies at https://www.totum.com/se/student-discount/cat. Sometimes other shops will give a student discount but don't advertise it very clearly, so make sure that you do ask. The actual discount will be higher or lower depending on which shop you go to. Some shops even double their normal student discount at certain times of year – it's like they know when the student grant comes in!
Watch out for promotions and sign up to a discount forum like www.vouchercodes.co.uk, where you can keep an eye on current offers and discounts, particularly those for students.
Saving on travel
You can get a young person's railcard by visiting www.16-25railcard.co.uk. Sometimes the site even offers the railcard for half price, so make sure that you keep checking to see when that is. At a third off the price of every journey you make, you'll get your money back in a journey or two, so it's well worth the investment. Think of all the festivals you can get to on the cheap! It also comes in handy for visiting friends and family. Mature students might be eligible for the 26-30 railcard, make sure you don't miss out! www.26-30railcard.co.uk.
Speaking of travel, don't forget about using the coach to visit family and friends. Although it takes a good while longer than going by train, if you book in advance you can get where you need to go for under a fiver! You could use www.megabus.com and www.nationalexpress.com to get tickets. You do have to book well in advance though, to obtain a good discount. If you're going to a festival, there's also a massive hold in the coach that'll keep all your muddy backpacks, tents and wellies well away from your last clean pair of jeans!
Saving online
There's an amazing site called www.freecycle.org. As the name suggests, it's all about recycling things for free. For example, say you're moving out of halls and you need a new bed, because your old one at home is now too small. You can list your old bed on freecycle and pick up a 'new' one for free at the same time. You simply sign up to a group in your area and exchange and pick up stuff for free. Instead of adding to landfill, you're reducing it.
A good website for savings is www.groupon.co.uk. You sign up and get email alerts for half-price meals, cheap days out and even alpaca walks! It's a great site to be on if you're strapped for cash but want to do something fun. Also check out sites like www.vouchercodes.co.uk and www.myvouchercodes.co.uk to find and print out money-saving coupons and vouchers. You can even get a Vouchercodes app for your smartphone that saves you the cost of printing – you simply show the screen with the relevant code to the shop assistant or waiter.
Signing up to a retail store's online newsletter often means that you get annoying emails, but sometimes they include big discount codes, so it's worth it in the end.
Savings accounts
It is possible to keep your student loan and grant in a savings account so that the funds can gain interest. If that seems impossible, how about getting into the habit of putting money aside each time you get it? Even if it means saving only 10 per cent, that's a starting point. If you do this every month for three years, you could end up with quite a tidy amount of cash.
This content has been written by Lauren Lucien, author of University Life: Making it Work for You and Student Brain Food: Eat Well, Study Better.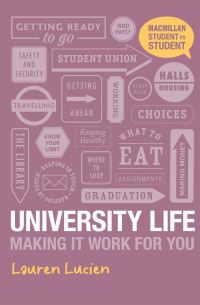 Hello and welcome to the start of your university life. I'm Lauren and I wrote this book as a student. Now that uni is more expensive than ever...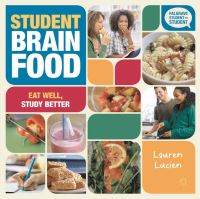 A unique student cookbook, Student Brain Food shows how good nutrition and eating well can help boost academic performance. Lauren Lucien, a...